Love to sing and perform? If so, come and audition to become part of the finest singing women in Aggieland!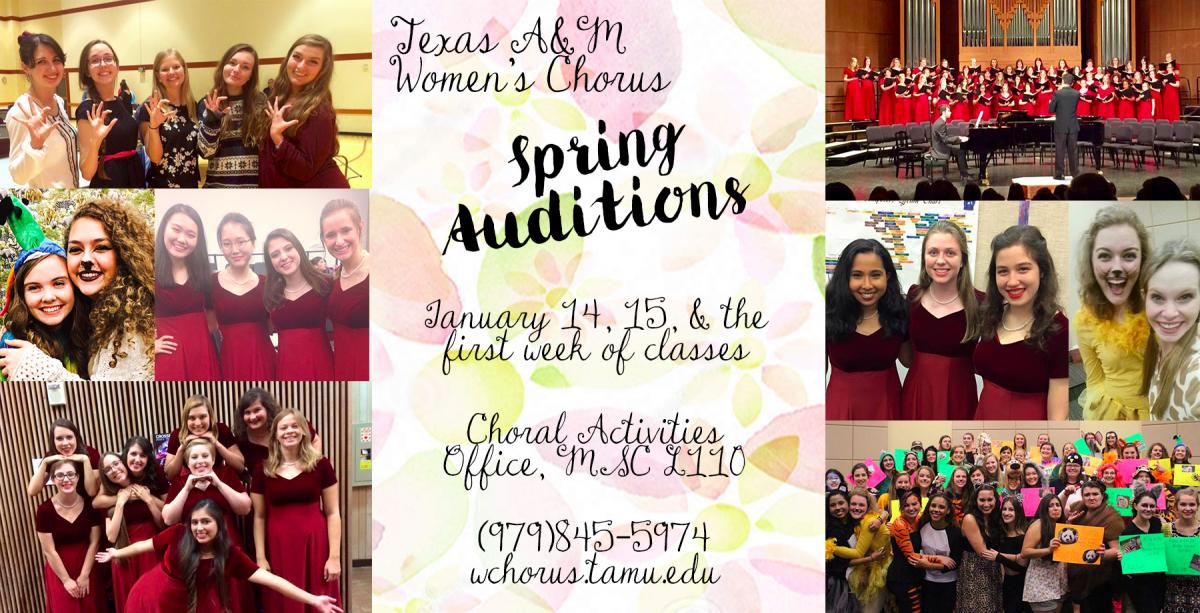 Audition consists of:
* a simple sight reading piece
* singing My Country Tis of Thee
* vocalization
Come by the Choral Activities Office on the lower level of the Memorial Student Center (MSC) and sign up for a time to audition. When you're done singing, we'll call you and schedule an interview with our officer board for a later time. Don't sweat it, we're nice folks.
Yes, we are a choir by name, but we are so much more than just a musical outlet for our members. As Aggies, we naturally have our own set of traditions that make us a unique group on campus. We also have numerous social events that give everyone a chance to hang out and get to know each other better. When you join Women's Chorus, you make 60 instant friends. Don't believe us? We dare you to come audition. You'll make lifelong friends AND wonderful music, we guarantee it.

Keep in mind that rehearsals are MANDATORY (but SUPER fun).

The rehearsal times for Spring 2016 will be:
Monday/Wednesday: 10:20-11:10 a.m.
Tuesday/Thursday: 5:30-6:45 p.m.