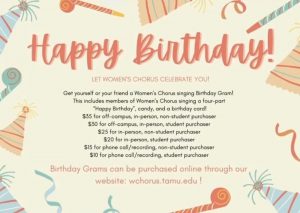 Need to order a Singing Birthday Gram? We can help. A quartet of Women's Chorus ladies will sing a four-part arrangement of "Happy Birthday" to your friend or loved one either in person or over the phone. Place your order today to make this a birthday to remember for your loved ones! Click here for pricing information and to request a birthday gram.
Orders are accepted during the fall and spring semesters!
A week's notice is required for an order, and payment is due at least 1 business day before we deliver the Birthday Gram.