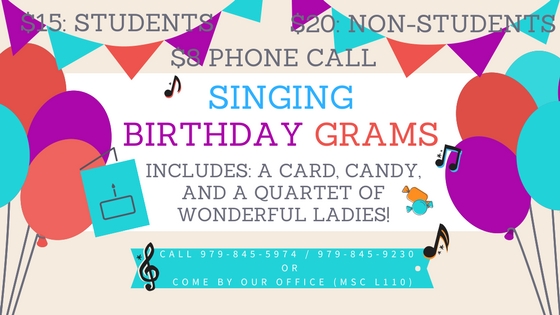 Call, or stop by, the Choral Activities Offices to order a Singing Birthday Gram!  A quartet of Women's Chorus ladies will sing a four-part arrangement of "Happy Birthday" to the recipient over the phone. Birthday gram phone calls are $8 each. Place your order today to make this a birthday to remember for your loved ones!
NOTE: Only phone orders will be available during the Spring 2020 semester.
Orders are accepted during the fall and spring semesters!
Be sure to check out our Facebook page to learn more as well as hear our lovely ladies sing to others.
A week's notice is required for an order, and payment is due at least 1 business day before we deliver the Birthday Gram.
You can call us at 979-845-5974 / 979-845-9230, or stop by the Choral Activities Office at the Music Activities Center (801 George Bush Drive)