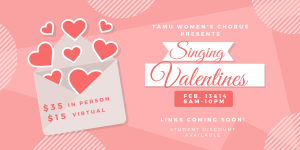 Are you looking for a great way to show your appreciation for your significant other, best friend, or parent? Do you want to embarrass a friend in one of their classes? Well, look no further! Texas A&M Women's Chorus proudly presents Singing Valentines!
In-person Singing Valentines come with a group of singers, a card that can be personalized with any message you choose, and a bag of candy. You can choose 2 of the following 5 songs:
Baby Face

Let Me Call You Sweetheart

Love Me Tender

'Til There Was You

You Are My Sunshine
Singing Valentines Price List & Links for Purchase:
$15 for a Video Recording
$35 for In-Person

$10 TAMU student discount In-Person
Sales will be accepted no less than 3 hours before desired performance time.
Links to purchase coming soon!!!!!!